Hotels are never so alluring as they are in the gloaming. The day is done, the night is young, and the property's engineers are making up their facades, their gardens and their pools for the evening, as artfully as a young woman at her vanity. There's a reason so many signature shots of hotels are taken at twilight. It just doesn't get any better than that.
Across Asia, lighting design is rigorously pursued by hotels to help create a sense of place. Whether it be bold and statement-making or subtle and romantic a lot of thought has gone into how a property lights a traveller's way.
"In the same way that light is critical for the success of an image, it's as critical for the impression that a hotel makes upon a guest," said Niklas Wagner, director of operations for Hotel Bocage. "You might not know when a place is lit properly, but you absolutely know when it's lit to the nines."
The Reverie Saigon
Redefining Ho Chi Minh City's skyline, The Reverie Saigon's sophisticated facade has made it one of the city's most iconic modern buildings. Aptly named Times Square, the location draws inspiration from the famous landmark in New York City. Like its American counterpart the idea was to be bold and striking when it came to illumination and for the place to also serve as a gathering point for people.  With this in mind the LED lighting system of the contemporary exterior consists of over 8,000 light bulbs that create, at present, 50 different lighting sequences, all of which are undetectable to guests inside. Popular displays include occasion-specific scenes like a jolly Santa Claus and a towering snowman and Christmas tree on display over the Christmas holiday period.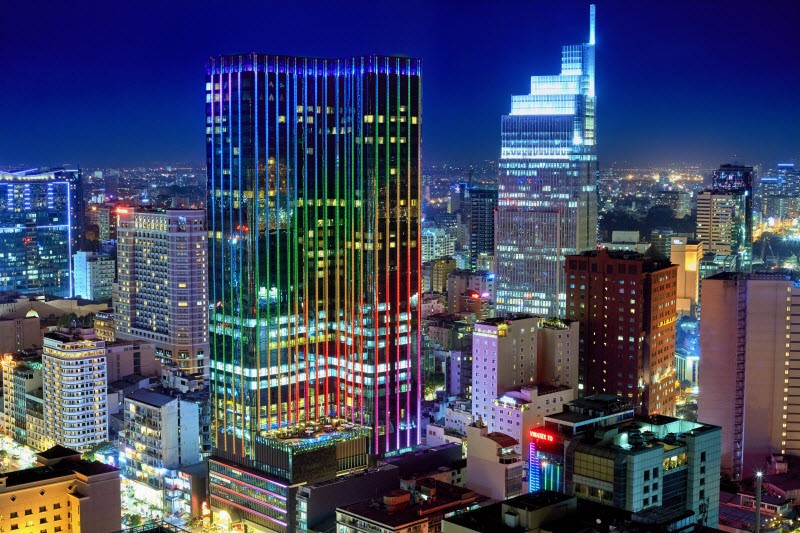 Soori Bali
Before there was artificial illumination, there was fire, and Soori Bali makes the most of it in cauldrons and on torches. As dusk descends, the staff ignite cast iron cauldrons filled with volcanic stone that line the resort's black sand beach. Torches light pathways to various after-dark venues and flicker walls of volcanic sandstone with a wild-dancing glow. Dancers frequent the resort's grounds after dark. Their ancient ritualistic moves are a wonderful complement to the primitive appeal of the blazes all around.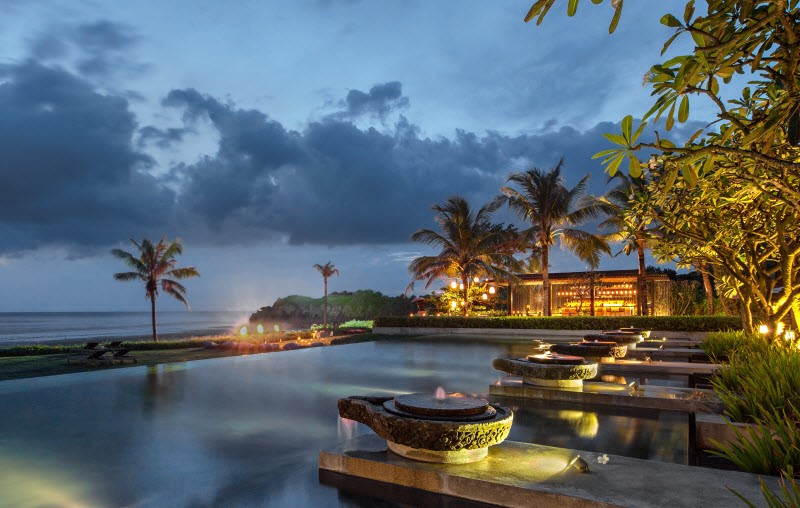 The Sanchaya
A façade as magisterial as that of the Sanchaya's two-storey beachfront manor has to be celebrated nightly. In the same way people are awed by the sunset, guests move to the far side of the resort's Olympic-sized infinity pool, or to the stunning stretch of beach beyond, to gaze back at 'The Great House' in all of its splendor as the lights go on. Wall sconces cast uplight and downlight on the exterior walls to create a warm and romantic ambience.  The manor's columns bathed in LED lighting also feature prominently as a different layer in the overall lighting effect.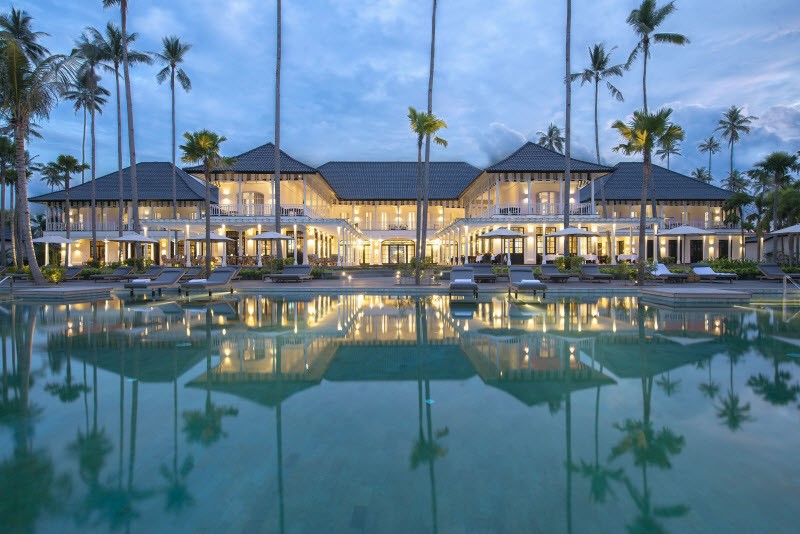 Sofitel Legend Metropole Hanoi 
The row of 48 ceramic lamps that sit staggered in the hallways of the Metropole's Old Wing (originally built in 1901) are an ode to Hanoi's bygone era. Designed and fired in a traditional Red River delta village, the ceramic lamps feature hand-painted red and blue flowers, bamboo lampshades, and a circular wooden base. The effect exudes old world charm and demonstrates that something old-fashioned can be as stimulating as a lot of high technology.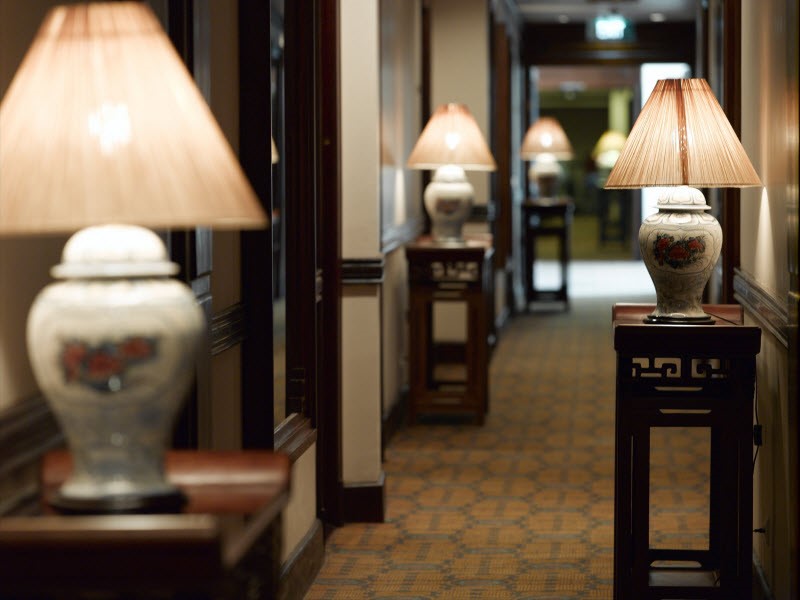 Sanctum Inle Resort, Inle Lake
Situated on the banks of one of Myanmar's most compelling destinations, the storied Inle Lake, Sanctum Inle Resort becomes all the more enchanting by night due to its mystical lighting scheme. Designer Brigitte Dumont de Chassart said varying intensities of light have been strategically placed to capture the "feeling, rhythm, harmony and magic" of the resort's facades, galleries and columns referencing the great monasteries of Europe.  Vertical wall spotlights illuminate the columns with cold light and decorative wall lights bath the galleries and other areas in warm light, combining to create a subtle yet disarming lighting effect overall.