HO CHI MINH CITY, VIETNAM (Aug. 13, 2019) – Guiding guests down white sand aisles, crafting romantic backdrops for beachfront vow renewals, and catering to the romantic whims of loved-up couples, Fusion Resorts across Vietnam are rolling out new wedding packages, ethereal commitment ceremony setups, and indulgent honeymoon possibilities.
"We've seen a clear rise in honeymooners and couples who want to say 'I do' at our properties over the last few years," said Atilla Erda, chief operating officer of Fusion. "We believe it's because Vietnam has the right balance of stunning beaches, rich cultural experiences and exoticness, without the high price tag of some other popular honeymoon and destination wedding locations."
Saying 'I do' in Vietnam's Former Imperial Capital
The newest member of the wellness-inspired hotel & resort brand, Alba Wellness Valley by Fusion, is tapping into its natural location, surrounded by verdant mountains and steamy hot springs, and launching a new wedding package.
The comprehensive offering includes set-up of the ceremony location amid lush tropical gardens, a celebrant, a photographer to capture the ceremony and reception, a champagne fountain, live music and an MC, a banquet service inclusive of wedding cake, a room for the bride to get ready with a makeup artist, and a complimentary honeymoon night with a late checkout. The resort can host up to 100 wedding guests and has a range of accommodation from private bungalows to chic suites overlooking a lake.
"Our authentic Japanese onsen spa and our range of wellness activities, from sunrise yoga to water meditation in our natural hot springs, help our couples find balance at an exciting and busy time in their lives." said Hylton Lipkin, general manager of Alba.
Wedding package prices start at USD236 per person for the three days, two nights package and applies for weddings with a minimum of 40 guests.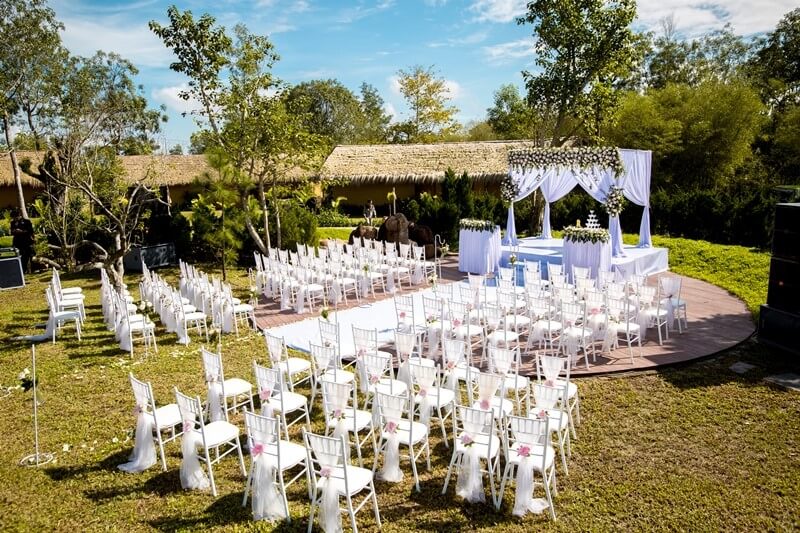 Sandy Nuptials on Vietnam's Largest Island
The all-spa-inclusive resort, Fusion Resort Phu Quoc, has just launched the "Lovers Embrace," an intimate beach wedding package on a tropical island.
Couples who wish to say 'I do' on the resort's white sand beach will be able to walk the aisle through a bamboo archway and say their vows under a wedding arch dressed in white silk and fresh flowers. All that's needed for the service is provided including a wedding guestbook, boutonnieres and bouquets, and a welcome drink for guests before the vows. A wedding gala dinner is also included with set menus of the bride and groom's choice, two-hours of live music, and two-hours of free-flow beverages including beer & wine.
The couple (and their guests) can relax pre- and post- ceremony at Fusion's Maia Spa & Wellness Facility, with at least two therapies per day being included in the room rate. Massages, wraps and facials, along with wellness activities like yoga, are on offer there. Each villa also has its own private plunge pool to unwind by.
Package rates start at USD 3,850 for 10 people and from USD7,950 for 50 people, exclusive of the nightly room rate.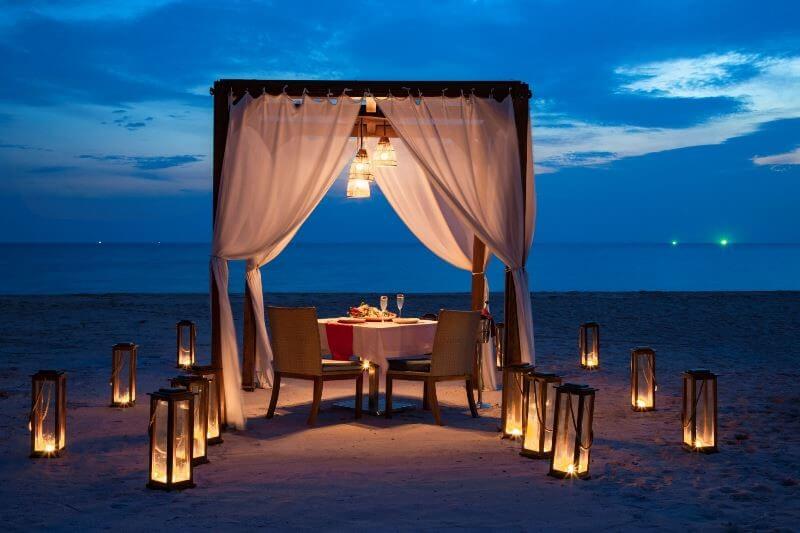 From Proposal to Vow Renewal on the Beach in Cam Ranh
The all-spa inclusive Fusion Resort Cam Ranh beach resort on Vietnam's south central coast is introducing two new romance-filled packages, one for romance and possibly a proposal, and one for couples who want to reaffirm their commitment.
'From the Heart' is for couples looking to pop the question or just enjoy a romantic evening on the water's edge. Guests of this package get a two night stay in a one-bedroom garden villa with private plunge pool, along with breakfast anywhere and anytime and a minimum of two spa therapies a day. At night a private beachfront BBQ is set up on the sand, with a personal chef grilling up freshly-caught local seafood (vegetarian options are available with several different BBQ menu options) and serving sparkling wine.  Prices start at USD1,787 per couple.
'Moonlight Lovers' is for couples who want to create a more concrete memory by saying 'I do' one more time, or who want to confirm their love to each other without the legal preparations. In addition to what's included in 'From the Heart' a celebrant is also arranged to guide lovers through a commitment ceremony. Prices start at USD2,256 per couple.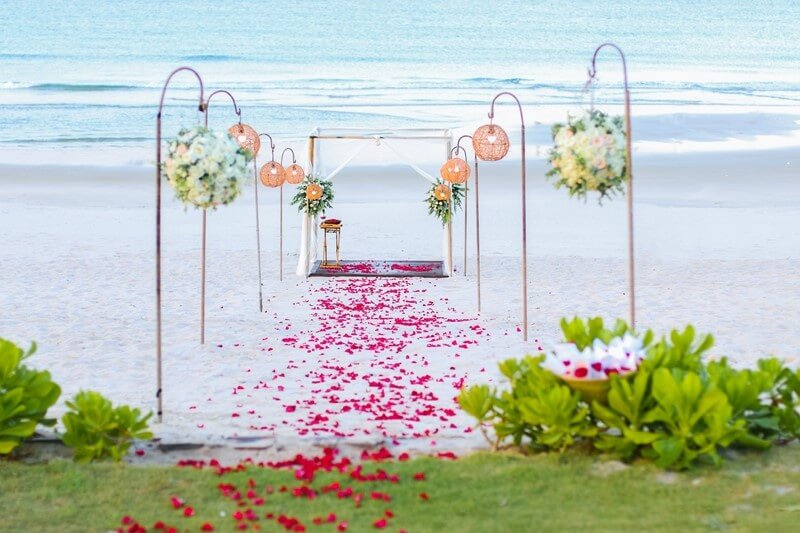 Beachside Honeymoon Experiences in Da Nang
Fusion Maia Da Nang's Celebration Menu is a pick-and-mix of insta-worthy experiences for couples.
The Floating Romance Tray sets the tone for a weekend of amore with pink bubbly, a tray of fresh Western and Vietnamese nibbles, and floating letters spelling L-O-V-E on the surface of guests' private pool, with all villas including their own private pool. Each tray starts at USD75.
The Fresh by the Sea experience is a candlelit beachfront dinner for two with a stellar selection of seafood like Vietnamese king crab, razor clams, sea snails and grilled langoustine. Dinner for two starts at USD195.
Other options include several in-villa Bath Bliss packages that combine sensuous essential oils, naturally therapeutic herbs, zestful citrus fruits or a room full of balloons for picture-perfect and a romance-inducing evening. Each bath set-up starts at USD 32.
These experiences complement the resort's range of all-inclusive spa treatments that couples can enjoy together.