Whether you're looking to go looney for Lunar New Year or having a romantic tête-à-tête with a loved one for Tet, you'll be sure to know that Lunar New Year is upon us this month when it launches across Southeast Asia. January 25 sees the start of the Year of the Rat. But no need to scurry around in dark alleyways – we've come up with a list of the best venues from Bali to Bangkok where you can feast and firecracker the night away. 
Tanah Gajah, Ubud
This tranquil resort, set in Balinese countryside, will host the 'Art of the Lunar New Year' to welcome in the Year of the Rat. The evening begins with sunset cocktails and canapés at the property's new Panen Padi Lounge. Visitors can sit back and soak in the view of a traditional lion dance performance, with a backdrop of emerald-colored rice paddy fields. The next stop is The Tempayan restaurant for a five-course Lunar New Year's Eve dinner of a Chinese-inspired family style menu crafted by Singaporean executive chef Dean and his culinary team. Guests are also invited to take part in a floating candle ritual on New Year's Eve to wish for a year full of luck, good health and prosperity. The one-time event will take place on Friday, Jan. 24th and costs IDR 1,200,000++ per person.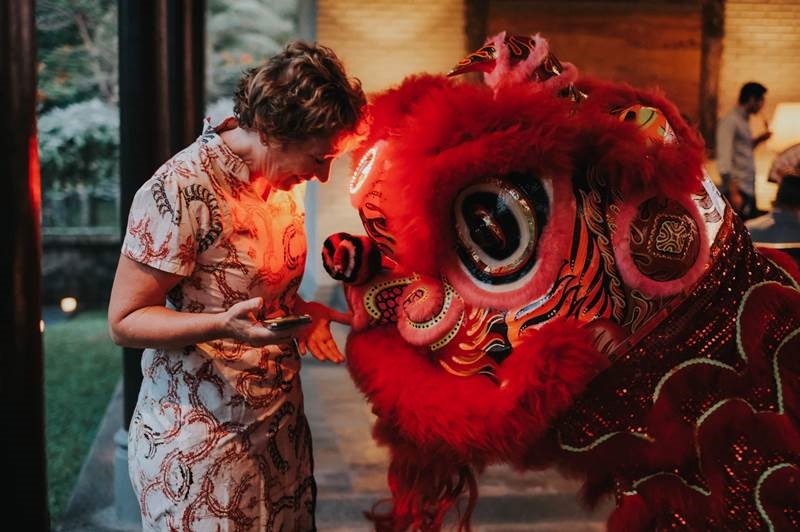 Meliá Ho Tram Beach Resort Ho Tram
The eclectic market atmosphere of Vietnam's vibrant seafood markets will be brought to life on the first day of the lunar new year, Jan. 25, as part of Meliá Ho Tram Beach Resort's "Seafood Market" experience. As the sun goes down to the right of the resort's 500m of ocean frontage, large bamboo baskets brimming with seafood caught from local waters that day — including crabs, lobsters, squid, snapper, shrimp, and scallops — are assembled on bamboo stalls at Breeza Beach Club's outdoor terrace to a backdrop of live chill-out music. The "Seafood Market" will also be held on Jan. 29 and 30 as well as Feb. 1. From Jan. 22 until Feb. 1, the resort will immerse guests in all sorts of culturally-enriching activities ranging from conical hat painting and lantern and sticky rice cake making, to a cooking class whereby budding chefs will craft "Tết" classics including Vietnamese caramelized pork and eggs, pork-stuffed bitter melon soup and spring rolls. Writing a wish for good fortune in the new year on a floating lantern, savouring "Tết" inspired cocktails, and dressing the kids in traditional Vietnamese "áo dài" costumes at the kids club for a photoshoot to take home a lasting memento are other activities on offer.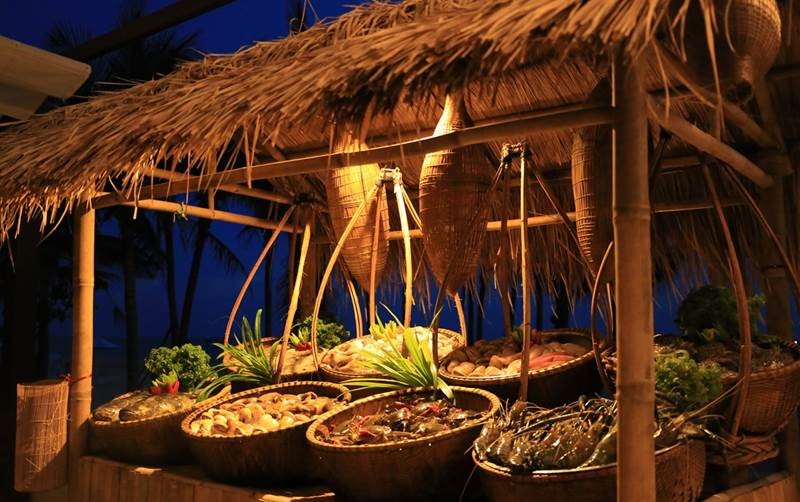 Sofitel Legend Metropole Hanoi
The spirit of old Hanoi will sweep through the Sofitel Legend Metropole Hanoi this month as the hotel celebrates Tet with a traditional Old Quarter-style market from Jan. 17-19. The festivities continue with special culinary offerings beginning Jan. 24. At the Tet market, vendors on the hotel's patio will sell authentic Vietnamese foods, in addition to wine, craft beer and souvenirs, and traditional-style Vietnamese houses will add to the "Old Quarter" ambiance. The Tet market at Metropole Hanoi is open to the public daily, and kicks off Friday, Jan. 17 at 4pm with an opening ceremony featuring a traditional dragon dance. The market continues on Jan. 18 and 19 from 11am to 8pm. The Metropole Hanoi will also host a special six-course Tet 2020 Gala Dinner at Spices Garden on Jan. 24 featuring grilled oysters with shallots and roasted peanuts, blue prawn in a mild coconut soup, braised chinh fish with green banana, and more.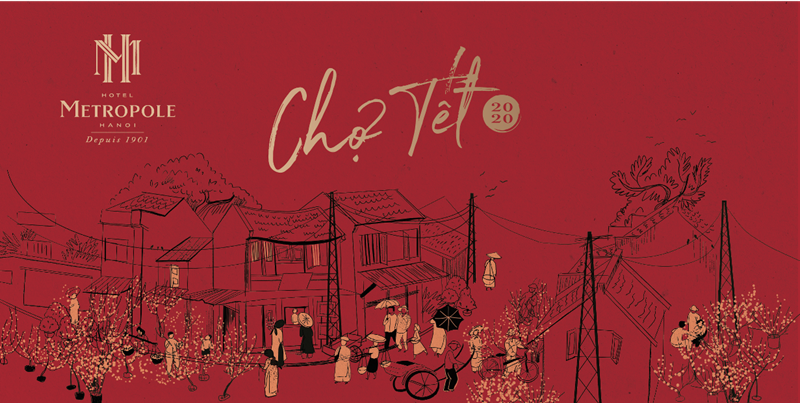 Hyatt Regency Bangkok Sukhumvit
The spiky durian has a bit of a bad rap. In Southeast Asia, it's not uncommon to see signs in a hotel banning guests from bringing the world's smelliest fruit into their rooms. But the culinary team at Hyatt Regency Bangkok doesn't judge a book by its cover (or its scent in this case) and have made the tasty fruit the star of the show this lunar new year. Over the holiday period guests can sample a special 'Durian Lover' afternoon tea set. The limited time menu (only available from the 24th – 31st of January) features 15 different savouries and sweets made from durian with items like durian sticky rice, durian strudel, and a durian macaron. Service takes place in the hotel's Sukhumvit Gallery, where guests can also enjoy rare photographs and maps that tell the story of the city's most iconic stretch of pavement, Sukhumvit Road. The set is available from 2pm – 4pm daily and costs THB 950++ per set for two.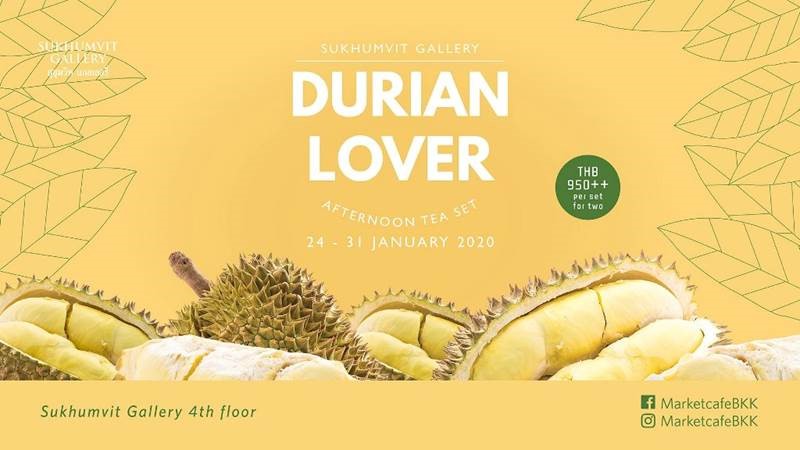 Azerai La Residence, Hue
In Vietnam's former imperial capital, Tet is marked in colorful style at Azerai La Residence, Hue. On the first day of the lunar new year, Jan. 25, the hotel will stage for guests a traditional lion dance in the morning, while in-house guests throughout the day will receive auspicious "lucky money" (known as li xi in Vietnamese) in red envelopes, symbolizing good luck in the coming year. The li xi is handed out by costumed gods representing happiness, prosperity and longevity. Azerai La Residence, Hue, is also serving a special "Taste of the Traditional Vietnamese Tet" menu featuring a range of local delicacies, including Hue sea crab salad, grilled beef in betel leaf, chicken dumpling soup with royal lotus roots, Vietnamese Banh Tet (a traditional Vietnamese glutinous rice cake typically served during Tet), honey-glazed prawns, and more. The menu will be served from Jan. 23 to 31 and is priced at 1,045,000 VND++.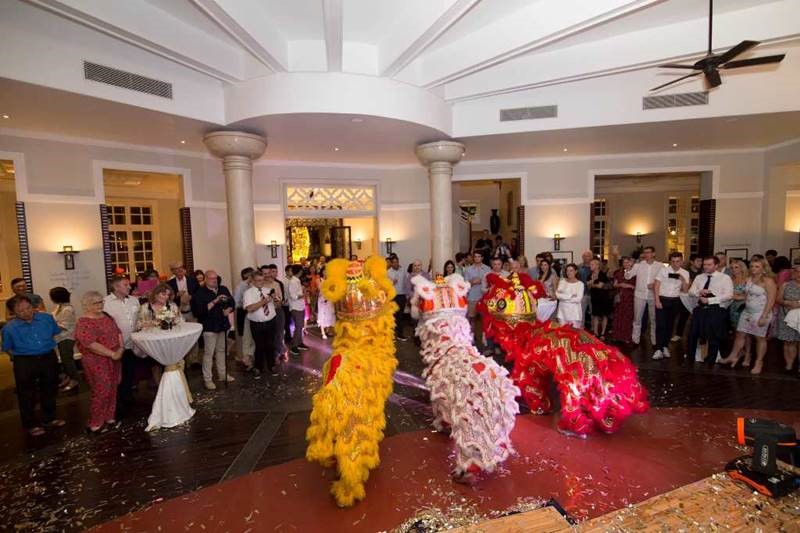 Banyan Tree Samui
For those who would rather sunbathe on a tropical beach than jostle with josh-sticks and fireworks, the tranquil resort of Banyan Tree on Koh Samui might be just the place to take a deep breath. Each of the 88 villas has its own infinity pool and 24-hour butler service, allowing guests to get away from it all in majestic bliss. But you'll want to emerge from your luxury retreat to join in the fun at Sands Restaurant on the evening of 24 January when resident Chef Rainer will host a BBQ buffet on the beachfront (THB 2,020 nett per person) featuring a new "8-Fires" theme including woks, hearths, flambés and other fiery cooking skills. The following morning at breakfast, guests will be entertained by a Chinese troupe performing the traditional Lion Dance.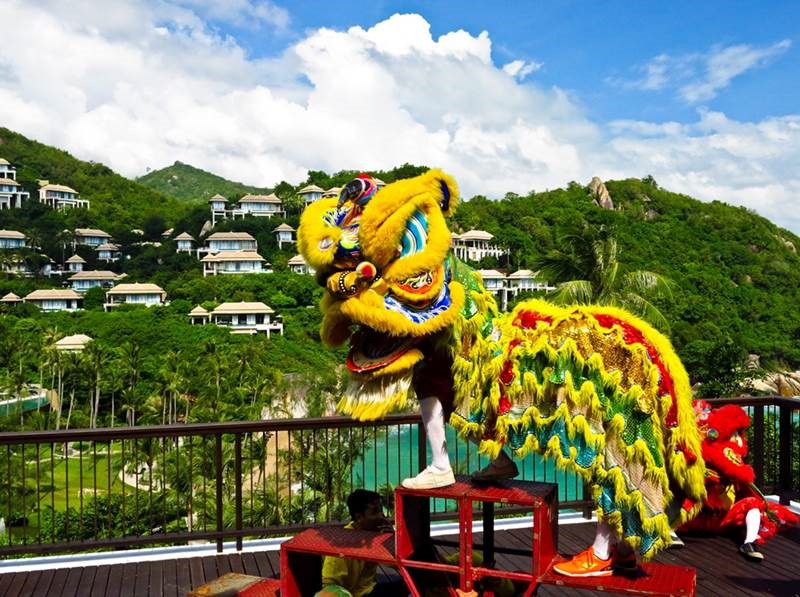 The Anam Cam Ranh
The Anam has recruited a half-dozen mothers of its staff to serve up an authentic slice of Vietnamese culture on the eve of the lunar new year, Jan. 24. As part of "Mama's Cooking", the mother cooks will draw on centuries-old recipes handed down the generations, serving up timeless Vietnamese classics, as if they were cooking for their own families including bò nướng lá lốt (grilled beef in betel leaf), bún bò Huế (Hue-style beef noodle soup) and bánh xèo (crispy Vietnamese pancake), complemented by plenty of fresh, zesty salads and other treats at the resort's Lang Viet Restaurant. From Jan. 17-28, the resort will stage celebrations including dragon dances and performances by Vietnamese instrumentalists playing the likes of the T'rung (bamboo xylophone), đàn Tranh (36-string zither), and đàn Hồ (two-stringed vertical violin with a wooden resonator). A gallery of 100 colourful Vietnamese opera masks will be showcased, and a Vietnamese calligrapher will write notes wishing guests good luck. In addition to Mama's Cooking, the resort will host other feasts including a Vietnamese street food buffet, a barbecue "Tết" buffet and a buffet featuring cuisine from around the world.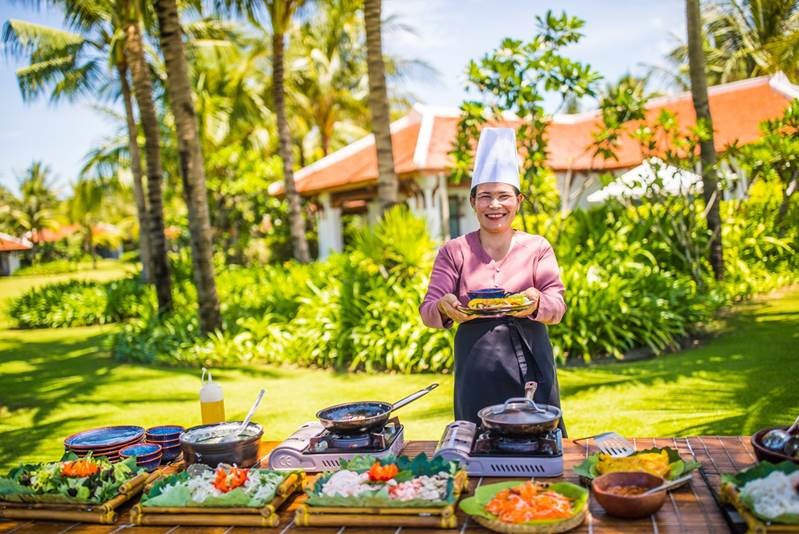 Paradise Cruises Halong Bay
In Vietnam's most famed natural attraction, UNESCO World Heritage-listed Halong Bay, luxury cruise provider Paradise Cruises will host a traditional "Tết" dinner menu on all of its vessels on lunar new year's eve, Jan. 24. Favourites including lotus and shrimp salad, deep-fried crab spring rolls, grilled oysters, sticky rice and green bean cake, and candied ginger will be served, and "lì xì" lucky money will be handed out to guests. Guests onboard Paradise Elegance and Paradise Peak have the option of donning iconic áo dài, a traditional silk tunic worn over trousers, for the dinner. A Filipino band will entertain on Paradise Elegance and midnight snack stations with traditional cakes will be set up on all of the boats for a countdown party. When the sun appears on Jan. 25, guests will again be greeted by awe-inspiring vistas of the bay's limestone karst formations rising up from turquoise waters.