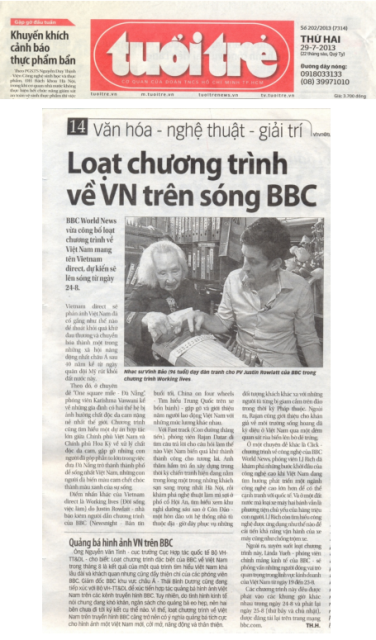 When we launched the Balcony Media Group in 2006, we did so as a vehicle for hotels, resorts and golf courses that wanted to generate media exposure in English-language media markets around the world.
We've had tremendous success in that regard, as you'll note from the stories we feature monthly in our Clip of the Month box on our home page.
One of the by-products of this success is the tremendous amount of media we've been able to generate for clients withinVietnam.
This month, we've realized an astonishing, new record with a single piece of news we distributed for the BBC. As of Aug. 13, we have generated 121 media placements for the BBC in both English-language and Vietnamese-language publications.
Getting news into Vietnamese media wasn't our charge at the outset. But over time, our PR Coordinators have developed a rapport with Vietnamese media that, partly, enables this kind of pick-up. Not every piece of news we dispatch wins this kind of attention from Vietnamese media.
The BBC news – about the debut of a new series of news programs about Vietnam – was at the red hot center of interest to Vietnamese consumers of news. The news generated by hotels and resorts usually doesn't come that close to the center, though it sometimes does, as when the Sofitel Legend Metropole Hanoi made some news with the excavation and memorialization of a wartime air raid shelter.
What these 121 placements tell us are two things:
1) When your news respects the interests of the media in Vietnam, the Vietnamese media will go for it.
2) No one can leverage news into the Vietnamese media the way the Balcony Media Group can.